This week's Friday Financial Foul Up will feature a submission by Clayton Collins from Just Good Financial Advice. Clayton is a Fire Fighter and blogger who is passionate about Financial Strength and saving for retirement. He writes about Finance, Saving for Retirement, and Personal Development. His writing has been featured at My Next Buck and ChristianPF.  He hopes everyone learns from his get rich quick scheme and does not repeat his mistakes.
If you would like to add your own financial foul up to this series, please contact me here.
_________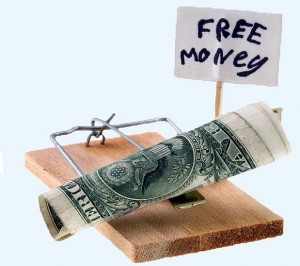 I graduated from college in 2003, and like any other fresh graduate I was looking to make lots of money. The problem with that is that I wasn't making enough at my current job so I was looking for work on the side. Sounds like a classic problem and plan right?
The Situation
Coming out of college and always looking for work and ways to make money I fell into a get rich quick scheme. I watched one of the "buy tax sale properties and make incredible returns" commercials.  I thought that if I could just make 10% of what those people were making then I would be much better off.  Heck, I was going to do this with my spare time so I wasn't expecting incredible results.
Where I Fouled up
When I called to apply for the program, I had to sign up for other services as part of a package deal. They had me go apply for a credit card to afford the "mentoring" service that would come with it. I actually had planned on getting a second credit card anyways so I just thought I'd throw this into the lot with it. I had myself convinced that I would actually have to spend some money to make some money, and so I went through with ordering the complete package.
Their next step was to send me 5 emails and call me and tell me what was in those 5 emails and that was my mentoring.  The next thing they wanted was for me to pay them to set up an LLC. This is the point where I drew the line.  I wasn't impressed with the mentoring and then they wanted to me to pay a bunch more for them to set up a business for me. I finally saw the light on them wanting me to keep spending money and cut them off.
By the end of this process I had purchased four properties and put myself in 5,000 dollars of debt with a bad plan to pay it all off.
What I Learned
I should have researched this company and everything they did before I purchased. Not being an informed consumer was my biggest mistake.
If I really had wanted to buy and sell properties, I should have taken real estate classes, which I'm glad to say I eventually did. I learned more and got so much more help than I ever did with the TV ad.
Finally, if it's too good to be true, it probably is and that is twice as true when it comes to making tons of money and not doing any work.
———-
Do you like this series? Check Out The Previous Foul Ups:
Foul Up #17 – Craig (Budget Pulse) – Black Friday Purchase Becomes a Dust Collector
Foul Up #16 – Jesse (PF Firewall) – The Fine Print of Rental Properties
Foul Up #15 – Paul (Fiscal Geek) – Unsuccessfully Restoring American Muscle
Foul Up #14 – Mrs. Micah (Mrs. Micah – Finance For a Freelance Life) – How Getting Married Wrecked My Finances
Foul Up #13 – Evan (My Journey To Millions) – Speeding Up Payments on Loan Interest, Not Principal
Foul Up #12 – Elle (Couple Money) – Stretching Yourself to have a Comparable Car to Your Friends
Foul Up #11 – Revanche (A Gai Shan Life) – Sibling Bailouts Cost More than Just Money
Foul Up #10 – Brad (Enemy Of Debt) – There's Nothing Interesting About Interest-Only Loans
Foul Up #9 – Jason (Redeeming Riches) – Buying a Car with a Balloon Payment at the End
Foul Up #8 – David (Money Under 30) – Being Too Eager to "Move Out" and "Move Up"
Foul Up #7 – Matt (Debt Free Adventure) – Upside Down and Paying The Price
Foul Up #6 – Brian (MyNextBuck) – Overdue Books Prevent Me From Renting an Apt
Foul Up #5 – Kelly Whalen (The Centsible Life) – Poorly Planned Vehicle Purchase Costs $24,000
Foul Up #4 – Stephanie (Poorer Than You) – Signed My Life Away at Age 17
Foul Up #3 – Deliver Away Debt – How I Wasted Over $10K and 11 Months
Foul Up #2 – Brian (MyNextBuck) – Quick Fixes to Weight Loss
Foul Up #1 – Brian (MyNextBuck) – How I Didn't Earn $3000 in Free Money