This week's Friday Financial Foul Up will feature a guest post by Brad Chaffee. Brad has been blogging at Enemy of Debt since April of 2008. He paid off over $25,000 in consumer debt and now has become debt's biggest challenger claiming to HATE it! To follow Brad you can look for him on twitter (@enemyofdebt) or writing over at The Self Reliance Exchange. Enjoy his story about his interest only loan!
If you would like to add your own financial foul up to this series, please contact me here.
_________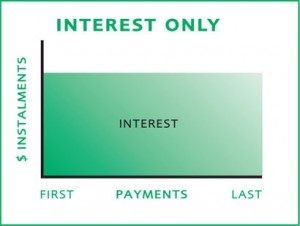 When we got married we bought our first house for a great cost. The problem was that we both worked 30 minutes away, worked different schedules, and did not want to drive two cars into the same city Monday-Friday. We decided to move to Charlottesville, where we both worked, to avoid the commute. We would rent our house out, and rent an apartment for a while until we could buy another house. It sounded great, but being a landlord is not all it's cracked up to be, but I will save that for another foul up.
The Situation
Anyone who has ever rented an apartment knows about the whole giving notice thing when you plan to leave. You may also know that some apartments have them rented out before you ever vacate—especially if you live in the UVA area, right off campus. We finally gave notice when we found an apartment for sale that we liked— no turning back now. We put down our small deposit with the Realtor and we were locked in. Then we found out that the Realtor was not acting in our best interest so we contacted the seller and he let us out of the deal. We got lucky!! Or did we?
Now we are literally homeless, since we had a tenant currently living at our 1st house. Luckily, my wife's parents live here so we were saved at the bell. We moved into their very spacious basement, recently converted into an apartment for guests. We were so gracious, but have you ever moved back in with your parents? Even if you get along, which we do, there is always the lack of privacy for both parties involved. We were approaching being there for 5 months and that was never in the plan. We had hoped we would have found a house already. We became desperate which as you may know, makes home buying go much faster.
Where we Fouled Up
We bought ourselves a 2nd house. The only difference—not a good mortgage like with house #1. Here's why. If you have ever been to my website then you know I am vehemently against the use of debt. It was after all the reason we could not get a good mortgage loan. All we could get was an 80/20 interest only piece of CRAP loan. In our opinion, the foul-up of all foul-ups. When we bought house #1 we had little to no debt, but our impulsive and rock star spending was out of control and guess what? We were using debt to buy stuff.
I have to admit that even though I was not yet a Dave Ramsey freak-a-zoid, I was very apprehensive about taking this deal. My wife was not so worried, and to this day, will admit she had to have the house and let her house fever rule the day. Hahaha, what does that say about me? Apprehensive, yet the wife still wins? Some men would say that makes me smart, however we all know that secretly I coddled a touch of the house fever myself, or I would have followed my gut feeling.
We bought the house for $169,700, which doesn't sound so bad when you are inexperienced in home buying, and find out it was appraised at $178,900. Woohoo, right? Wrong. Besides the downside illustrated in the horrific example below, saving $9,200 is not all that big of a deal when you are referring to real estate. Desperation to move out of the basement and into "our very own townhouse" won our hearts wallet.


We have paid $45K and have paid NO PRINCIPLE!
What we Learned
When buying a house you should never settle for a sub-prime mortgage. Don't do it! Traditional Fixed-Rate 15-year mortgage, or nothing! Okay I changed the last part to 15 because who the hell wants to be a slave to a house for 30 years? Then there's the massive savings when getting a 15 year over a 30 year.
When buying a house make sure you KEEP your walk away power. The house was ours before we ever signed the papers. Take the emotion out of buying a home and you will be all right. There's always a good deal to be found if you are willing to walk away.
When you have an interest-only loan, and then the house market collapses, it is so VERY HARD to refinance because the house is no longer worth what you owe.
Don't buy a house for the wrong reasons. We were not being pushed out by my in-laws, and could have taken a little more time to pay down some debt or even just find an apartment. We didn't have patience, and it cost us money.
I have learned a lot since making this mistake—about buying homes, but also about living debt free. In January of 2008, my wife and I decided that we did not want to borrow another dime ever again, and yes that does mean even for a mortgage. When we sell this house we will be paying 100% down for our next house, and probably be looking for a great deal on a foreclosure.I hope this keeps anyone reading it from EVER buying a home using a sub-prime loan to do so. It might feel like a good idea at first but buyers remorse sets in pretty fast after the novelty of "owning" your own house wears off.
Today we are very proud to say we are finally debt free, except for our house. We paid off 26,076.75 in 18 months and have enjoyed what being debt free provides us—more options and a better quality of life. Now we are going to work on paying this damn mortgage off, as if we were Dave Ramsey's kids! 😀
———-
Do you like this series? Check Out The Previous Foul Ups:
Foul Up #9 – Jason (Redeeming Riches) – Buying a Car with a Balloon Payment at the End
Foul Up #8 – David (Money Under 30) – Being Too Eager to "Move Out" and "Move Up"
Foul Up #7 – Matt (Debt Free Adventure) – Upside Down and Paying The Price
Foul Up #6 – Brian (MyNextBuck) – Overdue Books Prevent Me From Renting an Apt
Foul Up #5 – Kelly Whalen (The Centsible Life) – Poorly Planned Vehicle Purchase Costs $24,000
Foul Up #4 – Stephanie (Poorer Than You) – Signed My Life Away at Age 17
Foul Up #3 – Deliver Away Debt – How I Wasted Over $10K and 11 Months
Foul Up #2 – Brian (MyNextBuck) – Quick Fixes to Weight Loss
Foul Up #1 – Brian (MyNextBuck) – How I Didn't Earn $3000 in Free Money