This week's Friday Financial Foul Up will feature a guest post by David Weliver. David publishes Money Under 30, a blog featuring common-sense financial advice for twentysomethings. David is also on Twitter (@MoneyUnder30). In the past, David has worked for SmartMoney Magazine, although much of his blogging (including this foul up) is influenced by his personal experiences with money. Enjoy his story.
——–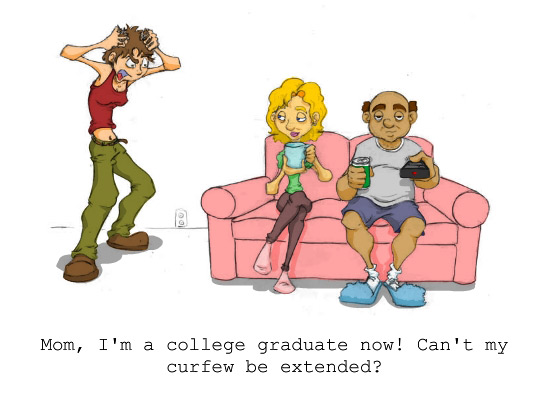 I have rarely met twenytsomethings who want to live at home with mom and dad. Similarly, I only know a few friends who prefer living with a gaggle of roommates to having a place of his or her own. But as I learned the hard way, trading up from these less-than-ideal living situations too soon can cost you.
The longer you can endure living at home or splitting cheap rent with roomies, the faster you can get out of debt, build an emergency fund, or save a down payment for a home of your own.
The Situation
After graduating from college I moved to New York City for my first job with SmartMoney Magazine. I didn't know anybody in the city, so I had to find housing on my own. I shelled out $650 a month to rent a ten by twelve foot room in Harlem, sharing a tiny kitchen and bathroom with a single mother and her teenage son. In Manhattan, that's was about as cheap as rent can get.
After a year in the city, however, I realized that I wasn't able to make ends meet in that expensive city with my meager entry-level salary. What's more, my now-wife, friends, and family were all in Boston. I made the decision to take a job back in Massachusetts (and move back in with mom and dad). I would be able to dramatically trim my budget and start chipping away at the substantial credit card debt I amassed in college and in my year in New York.
Fast forward a little more than a year, and I was getting really antsy to move out from under my parents' roof. I loved them; I just didn't love living with them when I was almost 24. With a second job and no rent, I was making progress on my debt and had enough wiggle room in my budget to at least move in with some roommates.
So I hit up Craigslist and found another rental bargain: Another very small room in a small house shared by four guys for just $425 a month, plus utilities. I lived there for six months. But it was cramped, and I longed to have a place all to myself. With more earnings from the second job and a raise at my full-time job, I again seemed to be able to afford an upgrade. I found a modest apartment just minutes from my job for $1,000 a month, utilities included.
I was willing to pay more than double the rent for the privilege of living alone.
Where I Fouled Up
At each step along the way, I told myself that I could "afford" to upgrade my living situation (from my parents' house to a shared house and from living with roommates to my own pad). Trouble was: I wasn't out of debt yet, I didn't have adequate savings, and I wasn't thinking about long-term goals like trying to buy a home someday.
By the time I was living alone I could have been putting an extra $500 a month towards my debt had I still lived with roommates. And if I stayed at home with my parents, I could've been putting an extra $1,000 towards my debt, which would've allowed me to clear my debts pretty quickly. Doing so would've saved me several thousand dollars in interest.
I didn't track my exact debt and payments during that time, but take this example, which is close: I had credit card debt of about $15,000 at an average 15 percent APR.
After other expenses, I had a budget surplus of $800 a month. I could either put all of that towards my debt, or $300 towards my debt and $500 towards paying more rent.
If I put all $800 to my debt, I could pay off that $15,000 in 22 months at a cost of $2,200 in interest. If, however, I put $500 towards paying more rent and only paid $300 a month towards my debt, it would take me 79 months (six and a half years) to pay that debt off and would cost me $8,687 in interest!
Had I been willing to live at home for an additional two years, I probably could've gotten debt-free and saved up a modest down payment to buy a home. Instead, about three and a half years since I moved out from home, I'm only now paying off the last of my debts and have paid several thousand more in interest.
What I Learned
Patience pays off!
Being smart with money requires us to consistently delay gratification. When it came to choosing where to live, I didn't delay at all; I moved out and up as soon as my monthly budget would allow (even though in the grander scheme of things, I really could not afford these moves).
Usually, housing is our single biggest monthly expense. So cutting how much you spend on rent almost always results in bigger savings than you can get by making small tweaks to your budget. So if you're trying to watch how many lattes you buy but are splurging to rent a luxury penthouse, it might be time to re-think your priorities.
Not everybody can live at home when they're just starting out, but most of us can choose to spend less on rent by living with a couple of roommates. When you're young, this can even be more fun than living alone (assuming you choose your housemates carefully!) And if you're getting out of debt or trying to bolster your savings account, nothing can help you reach your goals faster than a few hundred dollars not spent on housing!
———-
Do you like this series? Check Out The Previous Foul Ups:
Foul Up #7 – Matt (Debt Free Adventure) – Upside Down and Paying The Price
Foul Up #6 – Brian (MyNextBuck) – Overdue Books Prevent Me From Renting an Apt
Foul Up #5 – Kelly Whalen (The Centsible Life) – Poorly Planned Vehicle Purchase Costs $24,000
Foul Up #4 – Stephanie (Poorer Than You) – Signed My Life Away at Age 17
Foul Up #3 – Deliver Away Debt – How I Wasted Over $10K and 11 Months
Foul Up #2 – Brian (MyNextBuck) – Quick Fixes to Weight Loss
Foul Up #1 – Brian (MyNextBuck) – How I Didn't Earn $3000 in Free Money