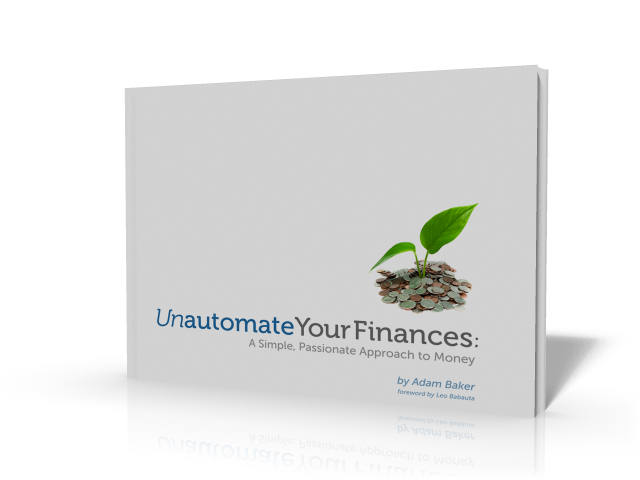 <man crush> Adam Baker is awesome.  Every time I meet someone that talks about living their life differently, I start to tell the story of Mr. Baker.  He has done some awesome things since his emergence online a year ago.  He has been a key supporter of me and my site and has helped me grow as a man as much as a blogger.  I have a ton of respect for him, and I am thrilled to review his eBook, "Unautomate Your Finances".</man crush>
Baker's book really delves deep into the human spirit.  He approaches personal finance from the ground up.  His goal is very clear.  Break down your financial infrastructure that is filled with complexity, waste, confusion and ignorance and build it to a point where you can handle your finances in a method that works well for you.
If you are just getting started, if you are thinking about changing your financial infrastructure, if you feel you need to take a step back and really understand your money. This book has a ton of value.  What you receive for $17:
A 84-page ebook (25,000-ish words). I broke it up into Theory (core principles), Science (exercise to design ideal life and isolate the "next step"), and Application (deeper topics like tracking, budgeting, paying off debt, credit cards, etc…)

A 27 minute interview with Leo Babauta (ZenHabits) as a bonus (Leo also wrote the foreword)
An audio interview with J.D. Roth of Getrichslowly.org as a bonus
2-page printable PDF budgeting template (of the budget described in Section 3)
Minimalist excel template of same budget
Baker will be sending out extended bonuses every months or so.  Case studies, more interviews, additional chapters, etc…
What I Think of the Book
I know I will be recommending this book to several friends over the next year.  I thinks its an outstanding display of personal finance creativity and is another way to think about the issues that face us daily.  You can tell the entire book was written from his heart.
Further, the book has a ton of practical and actionable advice for people that have never considered these concepts before.    For the Untemplater type folks, that are looking for a way to get their money under control and to do it in a way that will become part of a lifestyle change, I absolutely think that this book is designed for you.  For the hardcore personal finance reader who already has perfected a system that works for them, you are likely going to enjoy reading Baker's site (Man vs. Debt) more.
As a numbers guy (which he references in the book) a lot of Baker's advice doesn't really work well for me specifically.  But, I would prefer to live in a world filled with Baker's as opposed to a world filled with me's (there can only be one me… I will destroy any clones that cross my path!)
Where To Buy It
Surf on over and watch Baker's introduction video at his launch site.  If this guy doesn't inspire you then its hard to imagine how you get up every morning.
I wish him all the best of luck and I am really proud of all the work he has put in to make today come to fruition.