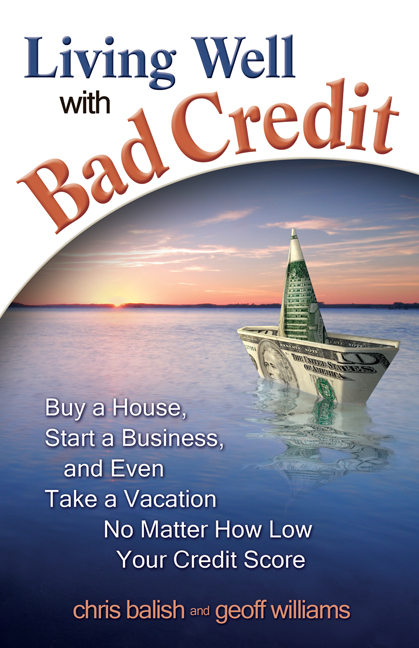 This morning I am going to discuss and giveaway a copy of "Living Well With Bad Credit" by Chris Balish and Geoff Williams.  It was about halfway through the book that I realized I was holding something a bit unique and a bit different. Keep reading and I will explain what was so interesting about this book and how to win a copy for yourself (and trust me when I say that your credit situation shouldn't have an affect on your interest of this title).
Quick Review
When does genius often occur? For a lot of us, it is when we are feeling pressure and our backs are against the wall. If you have bad credit, it's possible you feel like you are always against a wall (even though it's argued you should come to peace with this as You are not your credit score – sounds like something Tyler Durden would say). However, when times are tough is when people get the most creative.
There are a ton of strategies and practical tips that will help people live a normal life without feeling the effects of a crappy credit score. But, and this is where the genius of this book comes in, for those frugal folk that are looking for alternative methods to live, there are some gems in here for you that make this book worthwhile for you. From living in a yurt or a tiny home (this actually sounds awesome!) to renting a car instead of buying, you can find some interesting hacks to live without credit and to potentially save money. Heck, even if you are a blogger, you should give this book a glance as it will provide you with potential writing topics for at least a month.
For the target audience of the book, there is some really great value here.  Strategies and alternatives are discussed for banking, housing, driving, starting a business and even taking a vacation all without having to worry about your credit score tripping you up.  This book is not for those that are struggling with their next meal, but it is for people who find themselves doing okay in life, but just can't seem to get out of the cycle of bad credit.  If you have admitted to yourself that your credit score is a problem, and you feel it draining on your life, this book can provide you some refreshing ways for you to not have to rely so heavily on credit to live your life.
I recommend the book for anyone that fits the description above.  Its well paced and quite witty.  For such a depressing topic (and yes, having a really bad credit score can be depressing), the book remained uplifting and positive.
How to Win a Copy for Yourself
Now, you have read the review, gone over to Amazon and thought about buying a copy.  Well over the next week, you will have the opportunity to win a free copy of the book by either leaving a comment at the bottom of this post, or tweeting the following: "RT @brianscheur I am not my credit score! http://wp.me/pDleL-eS".  A winner will be selected at random on Friday, February 26th at noon EST.
Its as easy as that.  Best of luck to you all and if you pick up a copy, I am sure you will find something of value to add to your personal finance life.