So those of you that have kept up on reading my blog know that I haven't written much lately.  There has been a lot of guest posts and sponsored posts that has allowed the site to remain active but really hasn't been "my" writing.  Work has been crazy.  I love my new job that I got almost 8 months ago, and there isn't anything else i'd rather be doing, and the blog has suffered in terms of my own original content.  However, I am going to buck my own status quo, and share with you over the next 12 days leading up to Christmas the many other bloggers that I am thankful for this year.  A lot of them I haven't talked to in a while, but its important to me that they know I appreciate them around this time of year.
So… without further ado, the first blogger I am thankful for this year is J. Money over at Budgets Are Sexy.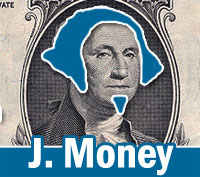 I first met J about 20 months ago.  Since then, I have had the privilege of calling him a close friend and someone I have the opportunity to hang out with socially.  He is a fun guy to be around and exudes a ton of energy.  While I have a bunch of stories about him that I'd love to share, I will highlight two of my favorites an then share why he is someone I am thankful for.
Story 1: J and I went to a blogger happy hour (with non-PF bloggers including Pixie658, LivitLuvit, and DCPrincess) around last May.  Anyway, we were socializing and my friend Alex (Pixie658) introduced me to someone as a personal finance blogger.  She got really excited and asked if I knew J. Money.  She got even more excited when I pointed to the goofy looking dude with the smile and faux hawk.  J. is a celebrity in his own right.  I am not one to travel on the coattails of friends, but if the fact that I know J. Money is a conversation starter with girls, I am going to use it.
Story 2: About a year ago, J. and I went out to Fuddruckers in Dupont (i was taking a 3.5 hour lunch break at my old job at a slow time of year… those were the days) and we had a lengthy conversation about this idea that involved him gathering money from readers and helping people with those funds that he raised.  A year later, and Love Drop is just about to born.  I'll let the site speak for itself, the link is lovedrop.us and you can check into the amazing things that he and his associates are doing.  I don't want to say I was a Debbie Downer about the idea.  I thought it had promise, but I saw a lot of roadblocks.  Roadblocks that J. eventually needed legal counsel on before he went ahead and got the ball rolling.  That is what I love about J.  I see the problems in things, while he sees the solutions… or at least has the energy to seek out the solution.  I am proud of J., and I am excited that a dream he has had for over a year is about to become a reality.  While the site does ask for money, I will say, its the best $20 a month or $240 a year I spend.  Congrats J.
And that leads me to why J. is someone I am thankful for.  If it wasn't for him, I wouldn't be blogging (or started a blog last year).  I wouldn't have hustled as hard, I wouldn't be as good of a worker as I am now, and I wouldn't be as good of a friend to people.  The dude is like a virus that infects you with some sort of happiness and pride just being in his presence.  You know he is genuinely happy to see you and talk to you, and that type of attitude truly is infectious.  I had a long debate if J. should be the first person I mention, or the last.  Finally, I decided.  Without J., there is no My Next Buck, nor is there the Brian Scheur you are reading from today.  Thanks J, and a Merry Christmas to you and your wife!